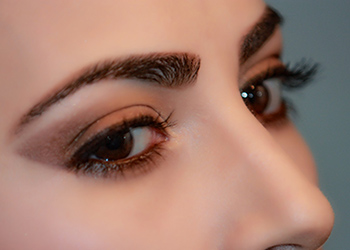 Small but mighty, eyebrows yield a lot of power when it comes to the face, setting up the eyes, accenting the hair, and even affecting how the silhouette of your face is perceived. The wrong eyebrow shape can throw everything else off – but how do you know what shape is right for you? And once you figure that out, how do you get your brows to behave? We've put together some eyebrow shaping tips and tricks that should put you on the straight and narrow – or the arched and thick.
1. Grow 'Em Out! The easiest way to see your natural shape is to let your brows do their own thing for a bit. Let them grow out for six to eight weeks and see where they flourish. You don't have to follow this shape exactly, but it's likely to be the most flattering outline in the long run. Of all of our eyebrow shaping tips, this is the one most often skipped over – but also probably the most important one!
2. Shape 'Em Up! Once you've got the general outline, you can get a little more specific. Take a makeup brush and line it up against your nose, hitting the outside corner of the nostril. Follow that line straight up, and that's where your brow should start. To find the arch, angle the brush to draw a line from the side of your nostril, straight through the pupil. That's where the arch should peak. Shift the angle the brush one more time, lining it up with the side of the nostril and the outer corner of your eye – that's where the brow should end. And remember when comparing the two brows, they're sisters, not twins!
3. Say Sayonara to Strays! Now that you've decided on the shape, tweez any outliers – but be sure to stick to the true strays. Overplucking is not a good look for anyone. When in doubt, err on the side of less hair removal. If this step makes you uncomfortable, eyebrow threading is an excellent option. Let a professional eye handle the dirty work! Threading uses a cotton string to twist and remove hair from the root, resulting in soft, smooth skin, and last for up to six weeks. It's especially great for people with sensitive skin. If you have sensitive skin and you're going in with the tweezers, start your hair removal session right after your shower. Warm water opens up follicles and softens hairs so they come out easily.
4. Spot Fill! Use a (freshly sharpened!) pencil to add color and depth, filling in any weak spots. Brunettes should opt for a color two shades lighter than their hair tone, while blondes should look for something in the taupe territory. Warmer brown tones are just right for redheads. If you want to get a little fancy, use a lighter color at the head of the brow and a darker color at the arch – it's like contouring for your brows!
5. Finishing Touches! For errant, too-long hairs in the line of the brow, brush the hair in an upward direction and use shaping scissors to trim. Finish with a light touch of clear gel to keep everything perfectly in place – and voila! You're an eyebrow shaping master.
#EyebrowShapingTips, #EyebrowThreading, #EyebrowShaping