

Academy

At Mali's Academy, you will gain all of the tools you need to excel at your craft and grow your business. Our highly trained specialists will teach you the necessary techniques and assist you in procedures to ensure you have the practical experience you need to succeed.
Fundamental Permanent Makeup/Microblading
Eyebrows, Eyeliner & Lips
Includes Kit & Certification
(6 sessions)
Includes Kit with Machine & Certification

Body Tattoo Art & Removal
Lining, Shading, Etc.
Includes Kit with Machine & certification

Overview
A
First, the student needs to get into direct contact with their local health officials or state officials. When embarking on a career in micro pigmentation, it's imperative that the student has a complete understanding of all health department regulations regarding permanent cosmetics. It is not the responsibility of mpc to obtain any info on permits, licenses, or the specific establishment the student wishes to launch.
A solid learning foundation is crucial to success in this field. We begin training by covering the following basics:
Equipment – The student will obtain in-depth knowledge of the various types of machinery utilized in permanent makeup application
Tools for Hand Use – Here we cover the kinds of needles used to apply both eyeliner and eyebrows
Color Theory – If you want to establish a successful permanent makeup career, you must make it a point to understand color theory. This requires a strong knowledge of skin tone and pigmentation.
Standard Around OSHA – Our students receive up to date info on regulations set by the state concerning decontamination and sterilization. They will also learn the proper way to set up and break down their workstations. We emphasize the dangers involved with Hepatitis C, MRI safety, HIV, adhering to OSHA standards, and blood-transmitted pathogens.
Marketing and Practices Surrounding Businesses – We talk about 'industry standards' in terms of sourcing decent premises, the ins and outs of setting up your practice, knowing how much to pay for rent, how to make sales and render excellent service to your clients while consulting with them. It is all about marketing and networking. Our students will have access to valuable support when they become members of either a local or national permanent makeup organization.
Teaching Your Clients About Aftercare – It is important that you learn about aftercare, so you can articulately convey the necessary/recommended steps to your client. In our many years in the business, we have found that informed clients are satisfied clients.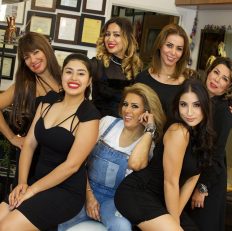 The Eyebrow Goddess
Beauty School & Makeup Classes by Mali's Academy and Studio
Mali's Academy is a full-service permanent cosmetics academy offering beauty school classes in permanent makeup, hair stroke eyebrows, scalp micropigmentation, master haircutting, scissor comb over, tattooing, and bob cutting. Here you will get the professional makeup training you need to lead the life you want. If you dream it, you can do it – as long as you have the drive and the know-how. You bring the drive; we'll take care of the know-how!
Our makeup classes start at the very beginning. A strong foundation is crucial to long-term success in this competitive industry. Once you've acquired a great understanding of the medium, you are able to truly push yourself and evolve as an artist, setting yourself – and your business – apart from the crowd. A lot of time and research has gone into our program's lesson plan creation. We take you through the A-Z's of the various types of machinery the craft requires, the different kinds of needles used in eyeliner and eyebrow work, and color theory in skin tone and pigmentation, before moving onto the application techniques themselves. The entire process is very hands-on, utilizing models when appropriate – but don't worry, our highly trained specialists will be at your side at every step of the comprehensive makeup training, watching, instructing, and inspiring. They love nothing more than sharing their expertise, believing that we all grow more when we respect each other and learn from every experience.
Our makeup courses don't stop at practical application. We include extensive teachings on marketing and business, covering industry standards, OSHA regulations, business creation and expansion, and networking. We are also firm believers in aftercare, setting your clients up for a happy relationship with their new look. Happy clients are forever clients!
We welcome students from all over the country! Both travel and lodging are offered and available for out-of-state students who wish to attend our academy. We can't wait to help you hone your talents, excel in your craft, and create a highly successful, in-demand business!