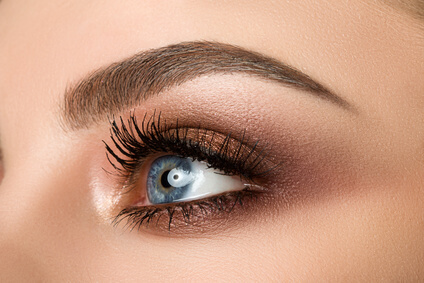 Brows are the beauty obsession of the decade, everyone wants to have the most perfectly shaped eyebrows and we definitely don't blame them. Like haircuts, the shape of your eyebrows isn't a one-size fits all situation. Every face shape and every person is different, they're a defining feature on your face so you've got to know what suits you. When you apply makeup, you can choose a shape and draw on your eyebrow how you like, but when you're wearing less makeup, you still want to look like an eyebrow princess. The right stylist will be able to look at your face shape and decide on the best eyebrow shape for you. The right eyebrow will help to open your entire eye area and thus improve your face's overall symmetry. Whether you adore eyebrow threading, or you hate even thinking about eyebrow shaping you should really get the down-low on our services, they'll make you look and feel amazing.
Eyebrow shaping originates from Ancient Egypt when men and women wore makeup because they believed it gave them supernatural powers, the Greeks and the Romans then took this further with makeup, the medieval women were the original pluckers, they also started dying their eyebrows too. Throughout history we've had the needle thin 1920's eyebrows and then the heavier, thicker 1940's brows right up until today where people model the bold brows such as celebrities like Cara Delevingne.
There are five most popular eyebrow shapes that we offer our clients however, if you want you can request anything you think is right for you. Our highly trained professionals will be happy to answer all your eyebrow queries and needs. We understand that you might be scared if it's you first time getting your eyebrows waxed or tinted but that's the whole beauty of it. Shape your eyebrows however you want, if you want high arches then be our guest or maybe extended eyebrow tails are more your thing? That's absolutely no problem! Eyebrow shaping is all about defining them and letting your eyebrows fulfil their potential, you never know, you could be hiding a perfectly shaped brow underneath that brushy one. If your face is round you want to make sure your brows are angular, because of the lack of definition in a rounder face, having a defined brow shape can help bring out your bone structure. Longer faced ladies might want to go for an extended tail as it can really play up your horizonal features. For those with a squarer face you might want to keep your brows rounded but shaped nicely, make sure if you're plucking that
So, it doesn't matter if you want waxing, threading or just a top-up on your shape. We've got the perfect service and treatment for you. Let our professionals take a hands-on approach to all your eyebrow threading and general eyebrow needs. We're a beauty salon and makeup academy in Woodland Hills and we're here to adhere to all you want, we'll transform you, so you no longer feel like you dread going out in the mornings – you'll love showing off your eyebrows to everyone about!
[booked-calendar year="" month="" switcher="0″ calendar=""]
[/booked-calendar]