

Academy

At Mali's Academy, you will gain all of the tools you need to excel at your craft and grow your business. Our highly trained specialists will teach you the necessary techniques and assist you in procedures to ensure you have the practical experience you need to succeed.
Overview
A
First, the student needs to get into direct contact with their local health officials or state officials. When embarking on a career in micro pigmentation, it's imperative that the student has a complete understanding of all health department regulations regarding permanent cosmetics. It is not the responsibility of mpc to obtain any info on permits, licenses, or the specific establishment the student wishes to launch.
A solid learning foundation is crucial to success in this field. We begin training by covering the following basics:
Equipment – The student will obtain in-depth knowledge of the various types of machinery utilized in permanent makeup application
Tools for Hand Use – Here we cover the kinds of needles used to apply both eyeliner and eyebrows
Color Theory – If you want to establish a successful permanent makeup career, you must make it a point to understand color theory. This requires a strong knowledge of skin tone and pigmentation.
Standard Around OSHA – Our students receive up to date info on regulations set by the state concerning decontamination and sterilization. They will also learn the proper way to set up and break down their workstations. We emphasize the dangers involved with Hepatitis C, MRI safety, HIV, adhering to OSHA standards, and blood-transmitted pathogens.
Marketing and Practices Surrounding Businesses – We talk about 'industry standards' in terms of sourcing decent premises, the ins and outs of setting up your practice, knowing how much to pay for rent, how to make sales and render excellent service to your clients while consulting with them. It is all about marketing and networking. Our students will have access to valuable support when they become members of either a local or national permanent makeup organization.
Teaching Your Clients About Aftercare – It is important that you learn about aftercare, so you can articulately convey the necessary/recommended steps to your client. In our many years in the business, we have found that informed clients are satisfied clients.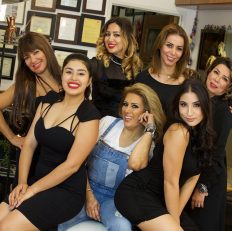 The Eyebrow Goddess